See What Clients Have to Say About Our Tours
Rated 4.7 out of 5 Stars by our Customers!!!
Read Real, UNEDITED Reviews at Trip Advisor
Great
The tour guide, Alan, was knowledgeable and helpful. This tour helped me understand Boston better and appreciate its history.
Very Informative
Our tour guide Alan was very enthusiastic and full of interesting information about Boston and the people who were instrumental in its development. We were fortunate to have a beautiful day for our walking tour and enjoyed it immensely. I will recommend this tour to my friends.
Perfect Way to See Boston and Feel Its History
Excellent tour guide. The sights were taken to present a good picture of historic Boston. The pacing was good, and the distance traveled was just right. The composition and number in the group were just right.
A Proud City Vision
Our guide was knowledgeable and humorous. The places we went were familiar to me, but he had some new tales to tell. My daughter's mother-in-law, from England, found it enthralling, which we were hoping for. She even compared Beacon Hill to Chelsea in London, and that's an enormous compliment. I think it was the ideal thing to do with a guest, but also just to see more of our own beautiful city. I especially like the fact that our tour group was small and cozy. There were so many huge tours around us.
Thanks From Our School Group
Thanks so much for the great tour! It tied in so well with our class history lessons, and the students couldn't stop talking about it. We'll be back next year.
Good Way to See Boston
We had only one full day in Boston and found this an excellent way of seeing and learning about its history and architecture.
Enjoyed the Tour and Especially Allen
Both my wife and me learned a great deal about Boston and the Jewish people from Boston. Allen was a superb guide who was very patient and knowledgeable. It was well worth the time and cost of the tour. Thanks.
Enjoyable and Interesting
My wife and I were the only people on this tour, so we had a personalized tour of Jewish Boston. Our guide was very sociable and informative. He even recommended a good deli to stop at on our way home. Because we were the only ones on the tour, our guide was able to impart useful information about other sites that we passed on our walk to the sites on the tour. We did this tour on a holiday, so the Vilna Shul was closed to the general public, and we had the place all to ourselves. We really enjoyed the tour and would recommend it highly. But be warned, it is a lot of walking!
We Loved You and Boston!
Our temple group really enjoyed our tour of Boston, especially our walk on Beacon Hill and the Vilna Shul. It felt very special and now we'll always remember our trip, so we want to thank you for making it so interesting.
Excellent guide
In a small group of four people with our guide, we saw an incredible amount of historical Boston while learning a massive amount - the guide kept it very enjoyable. One of the best walking tours I have ever taken.
Absolute Must for First Time Visitor to Boston
The tour guide, Alan, provides an endless account of New England's history and area information. The stories he shares with you on the tour are not the ones you will be able to get from a tour guide book or local brochure. He is a treasure and the ticket cost is well, well, well worth the money!! I highly recommend this tour for someone's first trip to Boston!
Very Informative and Entertaining
I have walked the Freedom Trail and through many of the streets that we visited on my previous trips to Boston, but found that the guided tour was a good way to learn even more about the city's history. Our guide knew his stuff...history, architecture, literature, and I would like to go on another one of the tours you offer the next time I'm in Boston.
Great Tour and Tour Guide
This was a fantastic tour. Our guide was friendly, informative, and patient, and clearly enjoyed what he was doing. The story behind the historical sites gave us a better understanding and appreciation of Boston's architectural and cultural history. The snacks and little gifts kept our kids engaged. We plan to take another tour with Alan in the near future
Private Tour Enthusiastically Received
My husband and I discovered that we were the only people who had signed up for our particular tour and assumed that it would be canceled. We were pleasantly surprised to hear from Alan that he had every intention of conducting the tour with just the two of us and then proceeded to tailor it to our interests. Even though I am originally from the general vicinity, I appreciated Alan's tidbits of information and interesting stories – most of which I had never learned in school. He gave us his full attention and was animated, friendly, and full of energy. It was evident throughout our walking journey that he enjoys his job, and the tour ended up lasting far longer than the prescribed two hours. My husband and I definitely recommend this activity to others.
Great Tour and Tour Guide
There were only two people on our tour, my son and myself, which meant we had a private tour. This was wonderful and so was our guide Alan Maltzman. We had a great time and the next time I am in Boston, from North Carolina, I will look you up for another tour. Sincerely,
Awesome Way to Start Off the Boston Adventure
The tour was very well presented and very informative. The tour guide was extremely friendly and was inspiring. I found this tour to be beneficial on my first time in Boston and a great way to see and learn about this city.
Allen
Most enjoyable tour. Guide was very knowledgeable.
Wonderful
We had the most enjoyable time. Everyone in the group said it was perfect and Boston was such a great city. Our tour guide knew EVERYTHING! Just great!
Great Insight Into the Evolving Boston City Scene
My wife and I live in the suburbs and played "tourist" for a day in Boston. We decided to include a guided walking tour instead of just sitting on a Duck boat or wandering around by ourselves. We were glad we did. We were especially interested in getting an up-close look at the new Rose Kennedy Greenway in the post Big Dig era. Alan, our tour guide, was very knowledgeable, cordial, and accommodating. His knowledge spanned from American history to modern-day "Big Dig" construction, architecture, local politics, and where to eat. Our summer weekday afternoon group was very small, so we had personal treatment. He offered to tailor the itinerary to meet our specific desires at several points along the way. I've walked around Boston and the Freedom Trail on numerous occasions over the past 40 years, but Alan took us into some locations and told us some facts I never knew before. We would recommend it highly for active, inquisitive types. You are walking for a couple of hours, so it's not for couch potatoes. We are likely to try another one of his tours in the future.
Wonderful Experience
My girlfriend and I were fortunate enough to have a personal tour of the Back Bay, Boston Common, Public Garden, Beacon Hill, and the downtown area. We had a wonderful experience and would recommend the tour to people again in the future.
It Was a Very Interesting Day, Thanks!
We're back in Germany and here are the pictures from our tour.
Thank you very much for your kind and special way of explaining and your understanding of our less English knowledge, and for your recommendations. We enjoyed our Boston-day very much! Best wishes and "auf Wiedersehen"
Sincerely Yours,
Silvia, Silvi, Richard, and Jörg
Boston Tour
The city walk with Alan was one of the most wonderful things I did in Boston as a visitor. He showed me the oldest places in the Back Bay, the ones not even every local person knows, explained the historical usage of all the interesting buildings, and educated me so much about Boston's history and architecture.
Alan is a very attentive and flexible guide – he sees what the tourist is more interested in and chooses the sights and the things to speak about accordingly. He puts his whole heart into these guided tours and enjoys them himself so much that you can't help but fall in love with the city and feel as if it was you witnessing all the history-changing events. I strongly recommend Alan's city walks as one of the best possibilities to explore Boston in an exciting and unforgettable way!
Now, I'm back in Moscow. It's pouring with rain and I'm sitting home with a runny nose and a sore throat – that's my reaction to the fact that I won't see Boston for another three years. Oh, I can't wait to come back to your beautiful city!
I have already recommended this walking tour to friends – the day after I went!
One of the best tours I have ever taken, in spite of the weather. It was cold and rainy but our wonderful walk of the Back Bay, Beacon Hill, and the Freedom Trail could not have been better. Tour Guide – Alan Maltzman, was very knowledgeable about Boston history, and architecture, and had many interesting and funny intertwining stories. And he doesn't wear a silly period costume like those other tour companies.
There were multiple choices of tours and I will definitely go back to walk the city with Alan again!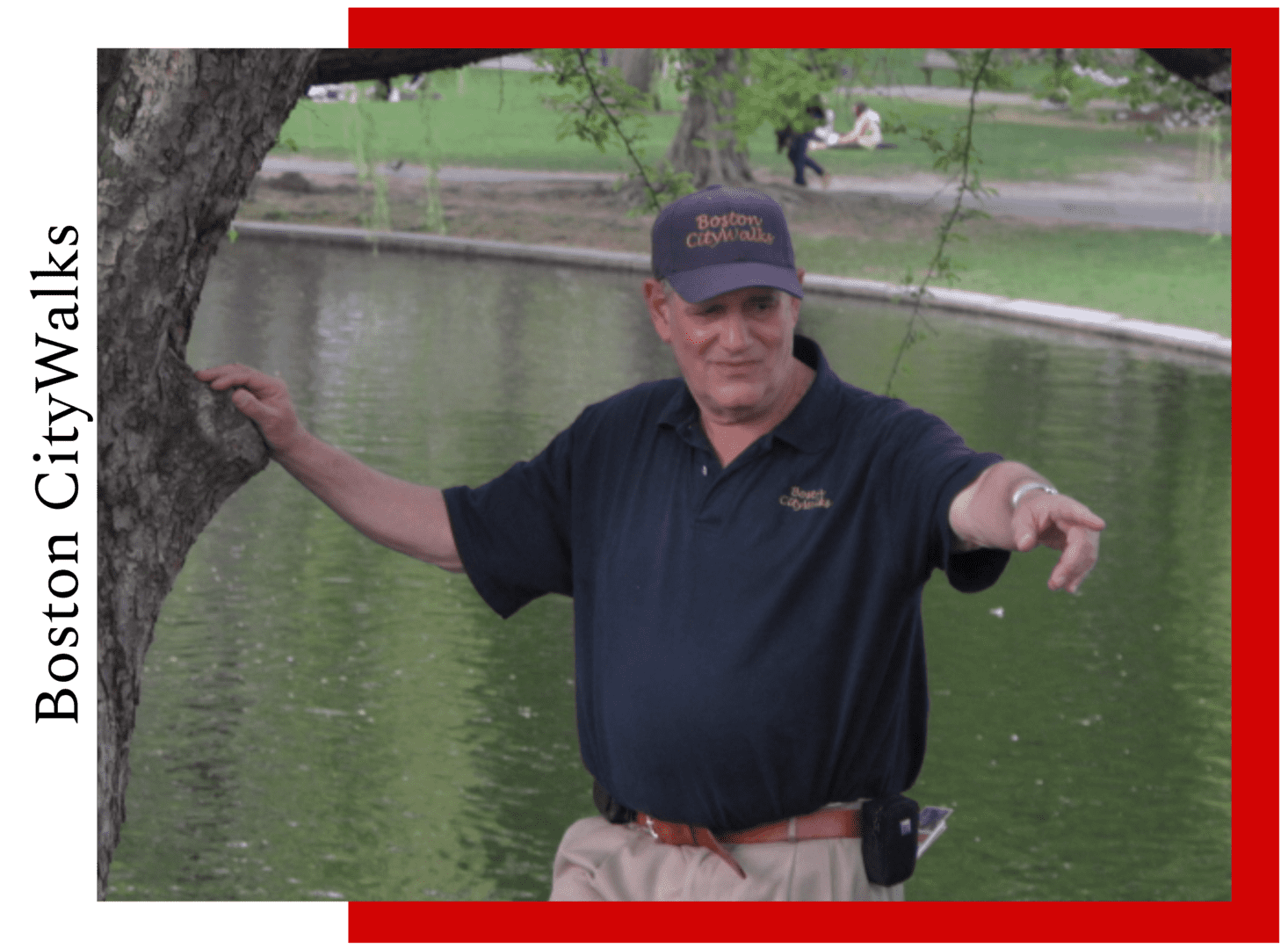 Did you take a walking tour with us? We would love to share your experience.
Please upload any images you would like to share about your adventure below.